OTC Sports operates under NFHS rules with a few of our rules incorporated below.
RE-CLASSIFICATION OF TEAMS:
OTC Sports monitors teams on the records that they hold in all local organized events. After a weekend of play we then begin the process of looking at all scores/records and re-classifying any teams that meet the following criteria:
· BLOW OUT SCORES- If a team is blowing out other teams steadily then obviously they are in the wrong division.
· WIN/LOSS RECORD
GUEST PLAYERS STIPULATIONS: (Effective 12-10-22)
You will see the Guest Player option when you are adding players to your roster.
If any team is caught altering player names or cheating, they will be removed from the event and granted a forfeit. Cheaters will be caught.
If an event is an OPEN event teams may pick up 2 guest players, MAX, using the Guest Player Option. These players may be AA, AAA, or MAJOR.
If an event is AA, then 2 AA players, MAX, may be added as Guest Players. No AAA or MAJORS players will be allowed.
If an event is AAA, then 2 AAA players, MAX, may be added as Guest Players. These players may be AA or AAA. No MAJOR players will be allowed.
If an event is MAJOR, then 2 MAJOR players, MAX, may be added. AA, AAA, & MAJORS players may be added.
All players added to any roster using the Guest Player Option will automatically drop from that roster on Monday and not be re-classified.
Players added to a higher ranked roster and not placed under the Guest Player Option will be ranked to reflect the higher division moving forward. Please sure to list them under the Guest Player Option.
It does not matter how a player is ranked with other organizations; only OTC Sports criteria applies.
NO PETS ALLOWED INTO ANY EVENT.
WE DO NOT DO AWARD PRESENTATIONS AS WE FEEL AWARDS HAVE MUCH MORE MEANING WHEN HANDED OUT BY THE COACHES.
NO BOOM BOXES OR MUSIC ALLOWED, EVER.
TEAMS PROVIDE THEIR OWN BASEBALLS DUE TO TEAM BALL PREFERENCES.
ALL GATE FEES ARE NON-REFUNDABLE - PAY AT YOUR OWN RISK.
ALL COACH PITCH RULES ARE LISTED BELOW.
OTC SPORTS ABIDES BY NFHS RULES WITH THE EXCEPTIONS LISTED BELOW.
2022/2023 RULES INDEX:
1. ENSURING ALL RULES ARE RIGHT
2. COACHES/PARENTS CONDUCT
3. AGE CONTROL DATE/GRADE BASED PLAYERS
4. BANNED BATS LIST
5. BAT RULES
6. TEAM REMOVAL DEADLINE/FINES
7. TEAM AWARDS
8. ROSTER GUIDELINES
9. FIELD DIMENSIONS
10. PITCHING GUIDELINES
11. BATTING LINEUPS
12. COURTESY RUNNERS
13. RUN RULES
14. HEADFIRST SLIDES
15. SLASH BUNTS
16. HOME TEAM DETERMINATION
17. PROTEST
18. EVENT UNIFORMS
19. GAME TIME LENGTHS
20. OFFICIAL GAME
21. EVENT BASEBALLS
22. SEEDINGS/TIEBREAKERS
23. STEEL SPIKES
24. SCORED GAME FORFEITS
25. COACH PITCH RULES
1. ENSURING CORRECT RULE INTERPRETATIONS:
All OTC Sports umpires have radios and are in direct contact with our Umpire in Charge.
If you follow this protocol, all rulings will be made correct.
DO NOT stop the game on judgment calls to contact UIC, only rule interpretations.
If you feel a rule is not right, ask the umpire to stop the game and he will contact the Umpire in Charge (UIC). After he is contacted, the correct ruling will be made.
If this protocol is used all rulings will be correct.
If you do not follow this protocol then please do not come to our tent after the game is over for the correct rule interpretation, we cannot help you after the fact.
2. OTC SPORTS COACHES/PARENTS CONDUCT POLICY GUIDELINES:
Anyone who abuses any OTC sports umpire or staff member will have the police located on site remove them. They will be banned from OTC events going forward.
3. AGE CONTROL DATE/GRADE BASED PLAYERS "2022/2023 SEASON":
Each team is allowed 2 grade-based players max.
Our system will not allow more than 2 grade based players to be on one roster at any time.
Coaches must have proper documentation of each grade-based player, which must include a report card, or a written document signed by the principal to prove that they are grade-based players.
There is a $300 protest to question a grade-based player. Any coach questioned that does not have the players proper documentation will have his team removed from the event at the time of the infraction. The guidelines below are effective immediately.
4. 2022/2023 BANNED BATS LIST:
*THE CFZEN -10 2 3/4 BARREL BAT (WTDXCBZ)-18 HAS BEEN GRANTED PLAY.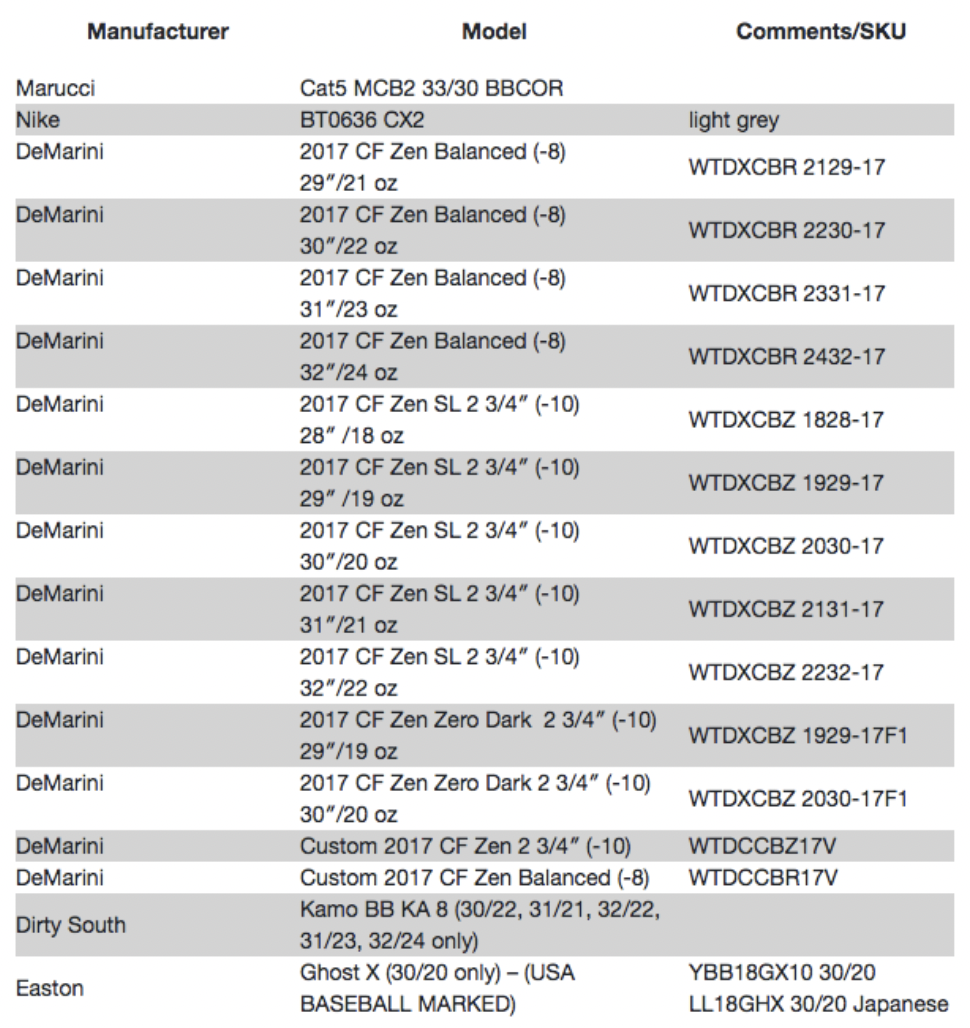 5. PLAYER BAT RULES:
Must be a baseball bat.
USA bats are approved.
All bats made completely of wood that are not altered or defective are legal.
BBCOR certified bats are legal unless otherwise banned by NFHS.
All other bats must be stamped 1.15 or half a certified BESR rating imprint.
7U-12U do not have restrictions to the weight/length ratio for non-wood bats.
13U/14U must swing a -3 or -5 non wood bat or authorized wood bat.
6. TEAM REMOVAL DEADLINE/FINES:
Any team that drops out of a scheduled event less than seven days prior to the start of that event will pay a $200 fine and not play OTC sports again until the fine is paid.
Any team that pulls out of an event after the pool play schedules have been drawn up will pay a $300 fine and not play OTC sports again until the fine is paid.
Any team who fails to show up at a schedule event will be fined $500. This team will not play OTC sports again until the fine is paid.
7. TEAM AWARDS:
We do not do awards presentations as we feel it is much more meaningful when coaches hand their players the awards in their own special way. No Awards will be issued if pool play is not completed. See rule # 24 for official game rulings.
8. ROSTER GUIDELINES:
Every team that participates in an OTC Sports event is required to create an OTC sports account where they can control their entire teams account.
All teams must have copies of all participating players birth certificates on hand at every event that every player participates in.
All rosters must be completed and online before midnight of the event start.
Roster limits or unlimited you made out and drop weekly.
No player is allowed to play on two different teams within the same event under any circumstances. Result of this infraction is forfeit for all teams involved.
Any team who chooses to play up one age must use players in your own age. If you choose to pick up players while playing up, you must sanction a new team in that age. Regardless of age, teams playing up will abide by the rules within that age.
Any illegal player will be removed from the event and the game will be an automatic forfeit.
Players names on rosters must match the players name on their birth certificate.
Numbers online DO NOT have to match numbers on the lineup sheet as they never will. Numbers on the lineup sheet must match the players number participating in the event.
In emergency situations the Director may make any roster addition exceptions after each situation is evaluated. Rosters will freeze on midnight before the start of each event and unfreeze Monday morning.
Players will not show as approved on a roster until all players waivers are signed. If a player on your roster, in your team dugout shows as pending, he is not approved on your official roster and the waiver must be signed and then he will be approved.
9. FIELD DIMENSIONS:
Field fence distances will vary depending on the venue.
Coach pitch plays 60 feet bases.
9U-10U: 46/65
11U-12U: 50/70
13U: 54/80
14U: 60/90
10. PITCHING GUIDELINES:
Innings pitched are not limited by innings daily on 2-day events. We feel as though coaches are responsible for kids arm safety not OTC Sports.
All innings pitched will be logged on the game cards signed by the coaches and can be checked at team check in. Our online pitching logs may not always be accurate but the signed game cards are.
2-day events: 9U - 12U are allowed EIGHT innings total/13U - 14U are allowed TEN innings total.
1-day events: 9U - 14U are allowed 5 innings total.
11. BATTING LINEUPS:
You have 4 choices for your lineup.
· Bat 9 straight.
· Bat 9 with a DH and play 9.
· Bat 10 with an EH and play 10.
· Bat the entire lineup no DH or EH.
Continuous batting order with free defensive substitutions applies "only pertains to entire line up". We recommend all eligible substitutes be listed.
If a team chooses to bat all players and a player is unable to take his turn at bat due to an injury or sickness, a player may be automatically called out upon an appeal by an opposing coach by virtue of the player batting out of order.
Exception: If a player is injured or sick to the point that he will be unable to participate in the remainder of the event, the lineup will collapse to exclude the player going forward. The team will not be paralyzed when the player's turn comes up in the batting order. The player will not be eligible to participate in the remainder of the event.
The umpire and opposing coach must be notified of your lineup choice at the plate meeting.
All games must start with no less than 8 players, if you only have 8 players to start the game the 9th batter will be in out. If you do not have an eligible substitute to replace a player that is injured/sick, ejected, or cannot bat for any reason, it is an automatic when the players turn comes up in the batting order with the exception listed above.
The official event lineup card must reflect the option chosen, and all eligible substitutes must be listed.
12. COURTESY RUNNERS:
A courtesy runner may be used for the pitcher or catcher once they reach base.
A courtesy runner will not be allowed if a pitch has been made to the next batter.
The courtesy runner must be a legal substitute currently not in the game, which includes starters that have been substituted for but are eligible for reentry.
If you're batting your entire roster, the courtesy runner must be the last batted out.
The same courtesy runner can only be utilized once per inning.
If a second courtesy runner is needed in the same inning another substitute can be inserted for the last batted out if a team does not have another substitute. If the last batted out is on deck or on base the courtesy runner will be the preceding last batted out.
13. RUN RULES:
Run Rules remain in effect in all games.
12 runs after 3 innings.
10 runs after 4 innings.
8 runs after 5 innings.
14. HEADFIRST SLIDES:
Headfirst slides or not allowed in ages 8-12 when the players are wearing a helmet with a face guard, C-flap, or non-breakaway chinstrap.
This rule does not apply to a player returning to any base.
Those not wearing this type of helmet are excluded. A warning will be issued to the offending team after the first infraction. Any additional infraction by the same team will result in a delay dead ball out.
15. SLASH BUNTS:
Slash Bunting in all ages is BANNED.
The penalty for a slash bunt attempt will result in the player being called out- contact or no contact.
16. HOME TEAM DETERMINATION:
The Home team is determined by the flip of an OTC coin at the home plate meeting.
In elimination games the home team will be the highest seeded team.
The home team will furnish the official score keeper. The official book must be a scorebook in writing not a mobile device.
17. PROTEST:
There will be a $300 protest fee payable in cash to the Site Director before any protest.
You can only protest a player's eligibility.
If your protest is lost, then so is the $300 protest fee.
18: EVENT UNIFORMS:
We are lenient on uniforms in Fall baseball only.
The uniforms of all team players should be on the same color and style.
If there are any concerns, it needs to be addressed at the Home plate meeting.
Catchers may wear a two-piece with a helmet and face mask, but the ears must be covered.
19: OFFICIAL GAME TIMES:
No drop-dead time in any ages.
One day events play 1 hour game times in all ages.
Coach pitch two-day events play 1 hour/6 innings/run rule.
9U – 12U: 2-day play 1:30 minutes/6 innings/run rule.
13U – 14U: 2-day play 1:30 minutes/7 innings/run rule.
In elimination play all games must be played out until there is a winner.
If there is a tie after the time/max innings has expired, we will go into the international tie breaker placing the last batted out on second base with 0 outs.
When the time limit has expired and the Home team is batting, and the Home team is winning, the game is over regardless of the score and we will not complete the inning.
The final score is the score when the official time has expired. In extreme weather situations when pool play cannot be completed on Saturday the site director may make schedule changes just to make the event even possible on Sunday.
Umpires keep the official time. Check with them throughout the game to make sure that your time coordinates with their time and there will be zero issues time wise.
20. OFFICIAL GAMES:
If any event is canceled due to whatever reason, all games played will be considered an official game if the teams that have played 3 1/2 innings with the home team winning or 4 complete innings if the home team was losing after 3 1/2 innings.
If stoppage is required after the 4 inning the winner will be determined based on the last inning both teams completed an equal number of times at bat.
In pool play if the game is canceled prior to this point the score will be the same as it was at the end of the last inning completed.
In bracket play if the game is canceled prior to 3 1/2 or 4 innings the winner will be the highest seeded team.
21. GAME BASEBALLS:
All teams provide their own baseballs due to baseball preferences.
You must use an official baseball.
Everyone knows what a real baseball is, they are the same kind that you want your team hitting.
22. SEEDING/TIEBREAKERS:
Bracket play seedings are determined by the order listed below.
We installed the 7 run max because without this in place teams will try and score a ton of runs just to have an advantage.
1. Least runs allowed.
2. Run differential 7 runs max.
3. Most runs scored 7 runs max.
4. If all listed above are tied across the board, the team with the most points is awarded the higher seed.
5. If both teams are either tied in points or have no points, we then go to a coin flip. If the coaches are not present, we will text both sides the coin flip video.
23. STEEL SPIKES:
Steel spikes are only allowed in ages 13U and 14U and are never allowed on any turf fields or portable mounts. Any spikes that are deemed to have been sharpened will result in that player of being removed from the event.
24. GAME FORFEITS:
All forfeits are scored 7-0 for the winner.
25. COACH PITCH RULES:
POOL PLAY GAMES:
If the time runs out in the top of the inning the home team will only be authorized to bat if they are winning. Even if they cannot tie or win the game.
If the home team is winning in the top of the inning and the time runs out the game will be called if the visiting team cannot win the game even by scoring 7 runs.
The score will be inputted from the previous inning.
There is no infield fly rule in coach pitch.
Intentional walks are not allowed in coach pitch.
No runner may leave the base until contact is made by the hitter.
A regulation team consist of 9 to 10 players.
Not all coach pitch players are required to play.
Lineup guidelines are listed above under section #10.
Teams can use either 9 or 10 defensive players.
One player must play the pitching position and one player must play the catching position.
For teams using 10 defensive players must, 2 must play the outfield positions.
Umpires will determine if an outfielder is playing the infield position and will notify the coach immediately.
Teams must have a minimum of 8 players to start and finish a game but must take an out for the 9th player. If the lineup drops below 8 players, the game is declared a forfeit at that point with the final score being the score at the time of the forfeit unless the team that has the forfeit is winning the game at the time will be scored 7-0 in favor of the team that did not forfeit.
There will be a 10-foot arc drawn on the first baseline to the third baseline. A batted ball must go past this arc to be considered a fair ball. There will be a 30 foot on drawn from the first base line to the third baseline. Players must remain behind this arc until the baseball is hit.
There is a pitching mark 40ft from the back of home plate inside the safety circle, coaches may pitch from the front of the safety circle preferred.
The pitcher must have 1 foot in the safety circle until the ball is hit.
If the pitcher leaves early the play will continue. After the play is over the offensive team has the option of taking the result of the play or enforcing a no pitch and the result of the play as being over.
If this happens a second time within the same game with the same player, then he has removed by the umpire from the pitching mound for the remainder of the game.
Each batter is allowed six pitches or three strikes.
If a batter hits a foul ball on the six pitch he is allowed to continue his at bat until he either does not make contact or hits the ball in play.
A no swing on the six pitch is an out.
Max 7 runs or 3 outs per inning.
A baseball that hits a coach pitching is declared a foul ball, if in the umpires judgment the contact was unintentional.
If in the umpire's judgement he feels that the coach intentionally made contact with the baseball the batter is out.
No bunting.
Umpires will call time after every play when in their judgment the play is dead.
Time will be called after: All runners stop attempting to advance, the ball is being controlled by an infielder, and no defensive play is imminent.