OTC SPORTS RULES OF THE GAME
OTC SPORTS ABIDES BY NFHS RULES WITH THE EXCEPTIONS LISTED BELOW


AGE CONTROL DATE:
IS YOUR AGE ON OR BEFORE APRIL 30TH, 2018.
OTC SPORTS PROVIDES AN AGE CALCULATOR ON OUR WEBSITE.
EFFECTIVE FOR THE 2017/2018 SEASON:
All grade based players must have a copy of their current report card or official school ID with grade or any official government document stating the grade.
IF YOU ARE A GRADE BASED PLAYER DO NOT PLAY IN AN EVENT WITHOUT THIS, IF YOU ARE QUESTIONED AND DO NOT HAVE IT, OR IF YOU ARE PLAYING AS AN ILLEGAL PLAYER, THE FOLLOWING ACTIONS BELOW WILL BE TAKEN.
Any player found to be illegal due to an age or grade violation during or after an OTC Sports event will not play in any OTC Sports event again. The team will forfeit all games and payments. And it would be really embarrassing for all involved. Cheaters always get caught.



THE LISTED DEMARINI BATS BELOW ARE BANNED BY OTC SPORTS THROUGH 2017-2018.
Withdrawn Zen bats retooled by DeMarini to meet the performance standard are allowed in OTC Sports sanctioned play.
Such retooled Zen bats will continue to have the USSSA mark on their taper, will have caps that are substantially orange, and will have a new model number including an orange R.
DeMarini has concluded its BPF audit for OTC Sports and below are the bats that have been withdrawn from OTC Sports play as a result of that audit. These bats are NOT to be used in any OTC Sports tournament UNLESS APPROVED AND RETOOLED..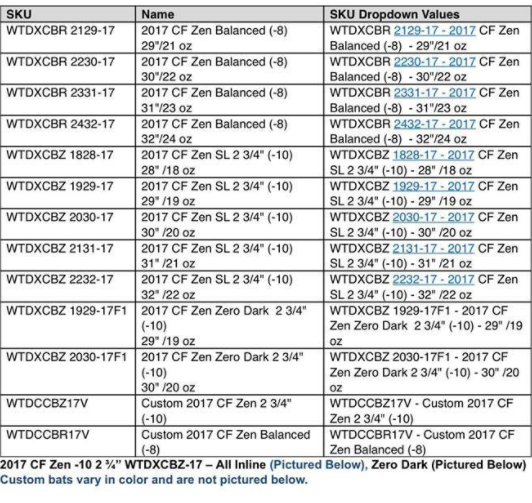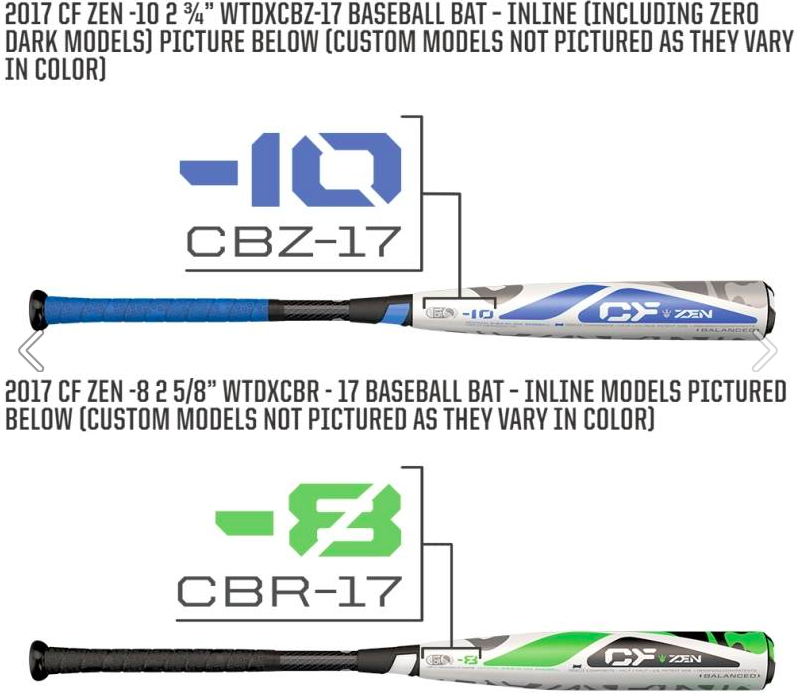 BATS:
BAT RESTRICTIONS ARE EXTREMELY ENFORCED.
MUST BE A BASEBALL BAT.
NEW USA BATS ARE APPROVED FOR USE.
ALL BATS MADE COMPLETELY OF WOOD, THAT ARE NOT ALTERED OR DEFECTIVE ARE LEGAL.
BBCOR CERTIFIED BATS ARE LEGAL UNLESS OTHERWISE BANNED BY THE NFHS ASSOCIATION.
ALL OTHER BATS MUST BE STAMPED 1.15 BPF OR HAVE A CERTIFIED BESR RATING IMPRINT.
AGES 8U-13U DO NOT HAVE A RESTRICTION TO THE WEIGHT/LENGTH RATIO FOR NON-WOOD BATS.
THE 14U AGE GROUP MUST SWING A –3 or -5.
.
REFUND POLICY:
ANY TEAM WHO PULLS OUT OF A SOLD OUT EVENT LESS THAN 10 DAYS PRIOR TO THE START OF THE EVENT 2 TIMES TO GO PLAY ELSEWHERE WILL BE REMOVED FROM ALL OTC SPORTS EVENTS. WHEN YOU PULL OUT THIS LATE THE TEAMS ON OUR WAITING LIST HAVE ALREADY FOUND OTHER PLACES TO PLAY. THIS SHOWS YOUR TEAM IS A LIABILITY TO OTC SPORTS SOLD OUT EVENTS.
NO GATE FEES ARE REFUNDABLE UNDER ANY CIRCUMSTANCES.
THESE OTC REFUND POLICIES BELOW ARE SET IN PLACE TO PROTECT US AND THE HOURS OF WORK WE PUT IN TO RUN GREAT EVENTS. IN THE PAST WITH NO STRICT RULES IN PLACE WE HAVE BEEN TAKEN ADVANTAGE OF AND THAT WILL NO LONGER HAPPEN. TY
Refund Policy Pre-Event:
A). ANY TEAM THAT PULLS OUT OF A SCHEDULED EVENT LESS THAN 7 DAYS PRIOR TO THE START OF THE EVENT FORFEITS THEIR ENTRY FEE. IF THE ENTRY FEE WAS NOT PAID ONLINE THIS TEAM MUST MAIL A CHECK FOR THE FULL ENTRY FEE BEFORE PARTICIPATING IN ANY FUTURE OTC EVENT
B). IF A TEAM PULLS OUT OF ANY OTC EVENT AFTER THE POOL PLAY SCHEDULES HAVE BEEN DRAWN UP, THAT TEAM WILL PAY THE FULL ENTRY FEE AND WILL ALSO BE FINED $100. THIS FINE MUST BE PAID IMMEDIATELY TO THE OTC CORPORATE OFFICE. ANY UNPAID FINES WILL RESULT IN THAT TEAM NOT PARTICIPATING IN ANY FUTURE OTC EVENTS UNTIL PAID IN FULL.
OTC Rain Out Refund Policy:
IF ANY EVENT IS SHORTENED OR CANCELED DUE TO WEATHER, THE FOLLOWING REFUND POLICY IS IN EFFECT FOR ALL OTC EVENTS.
A). NO GAMES PLAYED = 100% CREDIT TOWARDS YOUR NEXT OTC EVENT.
B). 1ST GAME 3 ½ INNINGS COMPLETED = 50% CREDIT TOWARDS YOUR NEXT OTC EVENT.
C). 2ND GAME STARTED = 0% REFUND.
THE STATE DIRECTOR WILL MAKE ALL DECISIONS ON A CASE BY CASE BASIS.
.
ROSTER RULES:
IN EXTREME SITUATIONS THE OWNER OF OTC SPORTS MAY MAKE EXCEPTIONS AFTER EACH SITUATION IS EVALUATED.
THROUGH APRIL 31st ALL ROSTERS WILL FREEZE ON MIDNIGHT BEFORE THE START OF THE EVENT AND UNFREEZE ON MONDAY MORNING.
ROSTERS FREEZE PERMANENTLY ON MAY 1st!
A). EVERY TEAM THAT PARTICIPATES IN AN OTC SPORTS EVENT IS REQUIRED TO CREATE AN OTC SPORTS WEB ACCOUNT AND TEAM DUGOUT.
B). ALL TEAMS MUST HAVE COPIES OF ALL ACTIVE AND PARTICIPATING PLAYERS BIRTH CERTIFICATES ON HAND AT EVERY EVENT. FAILURE TO PROVIDE BIRTH CERTIFICATES WILL RESULT IN A FORFEIT OF ALL GAMES AND PAYMENTS.
C). EVERY TEAM THAT PARTICIPATES IN ANY OTC SPORTS EVENT MUST HAVE THEIR ROSTER ONLINE.
D). ROSTER LIMITS ARE 24 PLAYERS.
E). ROSTERS WILL FREEZE PERMANANTLY ON MAY 1ST!
F). A TEAM MAY ADD UP TO 2 ADDITIONAL PLAYERS TO THIS ROSTER AT ANY TIME UP TO 45 DAYS PRIOR TO THE START OF THE OTC SPORTS WORLD SERIES.
G). A TEAM MAY REPLACE UP TO 2 PLAYERS ON THIS ROSTER AT ANY TIME UP TO 15 DAYS PRIOR TO THE START WORLD SERIES PROVIDED THE TEAM CAN SHOW PROOF THAT THE PLAYERS BEING REPLACED CANNOT PARTICIPATE DUE TO EITHER A FAMILY EMERGENCY OR INJURY.
H). A REPLACED PLAYER COMES OFF OF THE ROSTER COMPLETELY AND CANNOT PARTICIPATE.
I). ONCE A PLAYER IS FROZEN ON A TEAM'S ROSTER, THAT PLAYER MAY NOT BE LISTED ON ANOTHER TEAM ROSTER OR BE ELIGIBLE TO PLAY FOR ANOTHER TEAM IN AN OTC SPORTS EVENT IN THE SAME AGE DIVISION UNLESS THE MANAGER FROM THE ORIGINAL TEAM RELEASES THAT PLAYER. THIS MUST BE DONE IN WRITING/EMAIL TO OTC SPORTS. ONCE THIS PLAYER IS RELEASED HE MAY NOT BE ADDED BACK TO HIS PREVIOUS TEAMS ROSTER.
J). A PLAYER WHO IS FROZEN ON ANOTHER TEAM'S ROSTER DOES NOT HAVE TO BE RELEASED IF THIS PLAYER GOES TO PLAY FOR ANOTHER TEAM IN ANOTHER AGE DIVISION, PROVIDED THIS PLAYER IS ELIGIBLE TO PLAY IN ANOTHER AGE DIVISION.
IF ANY COACH INTENTIONALLY VIOLATES OUR ROSTER REGULATIONS HE WILL SERVE A MANDATORY 2 GAME SUSPENSION.
.
PARTICIPATION RULES:
NO PLAYER MAY PLAY ON 2 DIFFERENT TEAMS IN THE SAME EVENT UNDER ANY CIRCUMSTANCES AS THIS WILL RESULT IN A TEAM FF FOR BOTH TEAMS. ANY TEAM PLAYING UP MUST ONLY USE PLAYERS OF THAT TEAMS AGE, IF YOU CHOOSE TO PICK UP OLDER PLAYERS WHILE PLAYING UP YOU MUST SANCTION AN OLDER TEAM AND PLAY UNDER THAT TEAMS NAME.
.
PITCHING RULES:
2-DAY EVENTS
AGES 9U-12U ARE ALLOWED TO PITCH 8 INNINGS TOTAL PER EVENT.
AGES 13U—14U ARE ALLOWED TO PITCH 10 INNINGS PER EVENT.
TOTAL INNINGS PITCHED ARE NOT LIMITED ON SATURDAY OR SUNDAY.
1-DAY EVENT
AGES 9U-14U ARE ALLOWED TO PITCH 5 INNINGS MAX PER EVENT.
ALL PITCHING WILL BE FILED ON SIGNED GAME CARDS AT TEAM CHECK IN AND INNINGS PITCHED CAN BE CHECKED HERE.
DIRECT ALL PITCHING INQUIRIES TO THE SITE DIRECTOR.
ANY VIOLATION WILL RESULT IN A FORFEIT.
.
BATTING ORDER:
YOU HAVE 4 CHOICES FOR YOUR LINEUP:
1. BAT 9 STRAIGHT
2. BAT 9 WITH DH
3. BAT 10/PLAY 9 WITH EH
4. BAT THE ENTIRE LINEUP
CONTINUOUS BATTING ORDER WITH FREE DEFENSIVE SUBSTITUTIONS APPLIES "ONLY PERTAINS TO ENTIRE LINEUP". WE RECOMMEND ALL ELIGIBLE SUBSTITUTES BE LISTED.
A LINEUP IS ONLY COLLAPSIBLE IF A PLAYER IS INCAPACITATED OR BODILY FLUIDS ARE EXPOSED. INALL OTHER SITUATIONS THE PLAYER WILL BE AN OUT EACH TIME HE COMES UP TO BAT. ANY PLAYER SKIPPED OVER FOR THIS REASON WILL NOT BE ELIGIBLE TO PLAY THE BALANCE OF THE TOURNAMENT.
(IF YOU BAT ALL OF YOUR PLAYERS AND ONE GETS HURT, INJURED, DEPARTS, ETC, IT IS AN AUTOMATIC OUT WHEN THE PLAYERS TURN COMES UP IN YOUR LINEUP) THE UMPIRE AND OPPOSING COACH MUST BE NOTIFIED AT THE PLATE MEETING OF YOUR LINEUP CHOICE.
YOU MUST START WITH 8 PLAYERS, THE 9TH BATTER WILL BE AN OUT.
ALL ELIGIBLE PLAYERS MUST BE LISTED ON THE LINEUP WHEN IT IS SUBMITTED AT THE PLATE MEETING.
IF YOU DO NOT HAVE AN ELIGIBLE SUBSTITUTE TO REPLACE A PLAYER THAT IS INJURED, EJECTED OR CANNOT BAT FOR ANY REASON, IT IS AN AUTOMATIC OUT WHEN THE PLAYERS TURN COMES UP IN THE BATTING ORDER.
THE OFFICIAL EVENT LINEUP CARD MUST REFLECT THE OPTION CHOSEN AND ALL ELIGIBLE SUBSTITUTES MUST BE LISTED.
.
COURTESY RUNNERS:
FOR THE PITCHER AND CATCHER ONCE THEY FIRST REACH BASE.
A COURTESY RUNNER WILL NOT BE ALLOWED IF A PITCH HAS BEEN MADE TO THE NEXT BATTER.
THE COURTESY RUNNER MUST BE A LEGAL SUBSTITUTE CURRENTLY NOT IN THE GAME, WHICH INCLUDES STARTERS THAT HAVE BEEN SUBSTITUTED FOR BUT ARE ELIGIBLE FOR RE-ENTRY.
IF YOU ARE BATTING YOUR ENTIRE ROSTER, THE COURTESY RUNNER MUST BE THE LAST BATTED OUT.
IF A TEAM ONLY HAS ONE SUBSTITUTE OR ONLY 1-OUT HAS BEEN RECORDED, THE COURTESY RUNNER WILL REVERT BACK TO THE LAST BATTED OUT IF THE SUBSTITUTE IS ON BASE OR THE LAST BATTER IN THE LINEUP THAT BATTED OUT IS ON BASE.
.
RUN RULE FOR ALL AGES:
RUN RULE REMAINS IN EFFECT IN ALL GAMES INCLUDING CHAMPIONSHIPS.
12 RUNS AFTER 3 INNINGS
10 RUNS AFTER 4 INNINGS
8 RUNS AFTER 5 INNINGS
.
HEAD FIRST SLIDE:
HEAD FIRST SLIDES ARE NOT ALLOWED IN AGES 8U-12U WHEN THE PLAYER IS WEARING A HELMET WITH A FACE GUARD, C-FLAP OR (NON-BREAKAWAY) OR CHIN STRAP. THIS RULE DOES NOT APPLY TO RUNNERS RETURNING TO 1ST BASE. PLAYERS NOT WEARING THIS TYPE OF HELMET ARE EXCLUDED. TEAM WARNING AND THEN A PLAYER CAN BE CALLED OUT IF INFRACTION CONTINUES. A TEAM WARNING WILL BE ISSUED TO THE OFFENDING TEAM ON THE 1ST OCCURRENCE. ANY ADDITIONAL INFRACTION BY THAT TEAM WILL RESULT IN THE PLAYER BEING CALLED OUT WITH A DELAYED DEAD BALL SITUATION.
.
SLASH BUNTS:
SLASH BUNTS IN AGES 9U-13U IS NOT ALLOWED.
THE PENALTY FOR A SLASH BUNT WILL RESULT IN AN OUT.
NO CONTACT WITH THE BALL IS REQUIRED FOR AN OUT TO BE CALLED.
.
HOME TEAM DETERMINATION:
HOME TEAM IS DETERMINED BY THE FLIP OF A COIN AT THE HOME PLATE MEETING.
FOR ELIMINATION GAMES, THE HOME TEAM WILL BE THE HIGHEST SEEDED TEAM.
THE HOME TEAM WILL FURNISH THE OFFICIAL SCOREKEEPER.
THE OFFICIAL BOOK MUST BE A BOOK NOT A MOBILE DEVICE.
.
PROTEST:
THERE WILL BE A $300 FEE PAYABLE IN CASH TO THE SITE DIRECTOR FOR ANY PROTEST.
YOU CAN ONLY PROTEST PLAYER ELIGIBILITY.
IF YOUR PROTEST IS LOST SO IS YOUR $300 FEE.
.
UNIFORMS:
LENIANT IN FALL BALL.
THE UNIFORMS OF ALL TEAM MEMBERS SHOULD BE OF THE SAME COLOR AND STYLE.
NO DUPLICATE JERSEY NUMBERS ALLOWED.
IF IN THE UMPIRES JUDGEMENT HE DEEMS THE PLAYERS DRESS TO BE INAPPROPRIATE, THE PLAYER CAN BE REMOVED FROM THE GAME UNTIL HE CONFORMS TO THE REQUIREMENTS SET FORTH.
.
CODE OF CONDUCT:
OTC SPORTS DOES NOT TOLERATE FOOLISH BEHAVIOR!
WE WILL NOT TOLERATE ANY BEHAVIOR THAT WILL SCAR THE HEARTS AND MINDS OF THE KIDS THAT ARE OUT HERE TO COMPLETE AND HAVE FUN.
IF ANYONE CROSSES THE LINE AND TOTALLY DISRESPECTS THE GAME OR ANYONE OF ANYTHING AFFILIATED WITH THE EVENT WILL BE ESCORTED OUT OF THE PARK IMMEDIATELY BY THE ON-SITE POLICE.
WE DON'T TOLERATE MISCONDUCT!
THANK YOU TO THOSE WHO UNDERSTAND THIS! AS ADULTS, WE MUST SET EXAMPLES FOR THESE YOUR MEN AND WOMEN THROUGH OUR ACTIONS.
IF ANY MANAGER OR HEAD COACH IS THROWN OUT OF A GAME BY THE UMPIRE, THAT MANAGER WILL NOT BE ELIGIBLE TO COACH/MANAGE IN HIS/HER NEXT SCHEDULED GAME UNLESS AN EXCEPTION IS MADE BY THE UIC/SITE DIRECTOR.
.
GAME LENGTH
7U-8U COACH PITCH = 1:15/6 INNINGS/RUN RULE
9U-12U = 6 INNINGS/1:30/RUN RULE
13U-18U = 7 INNINGS/1:40/RUN RULE
NO DROP DEAD TIME LIMIT!
NO GAME WILL BE PLAYED OUT AFTER TIME LIMIT OR INNING LIMIT.
IN ELIMINATION PLAY, GAMES HAVE TO BE PLAYED OUT UNTIL THERE IS A WINNER. IF THERE IS A TIE AFTER TIME IS UP OR MAX INNINGS ARE PLAYED WE WILL GO TO THE INTERNATIONAL TIE BREAKER PLACING THE LAST BATTED OUT ON 2ND WITH NO OUTS.
WHEN TIME LIMIT IS UP AND THE HOME TEAM IS BATTING, AND HOME TEAM IS AHEAD, THE GAME IS OVER REGARDLESS OF THE SCORE. WE WILL NOT COMPLETE THE INNING!
FINAL SCORE IS THE SCORE AT THE END OF THE TIME LIMIT.
UMPIRES WILL KEEP THE OFFICIAL TIME.
.
OFFICIAL GAME:
IN THE EVENT OF ANY NATURAL OCCURRENCES TO INCLUDE WEATHER, FIELD CONDITIONS, OR ANY OTHER SITUATION THAT CAUSES A GAME TO BE STOPPED AND IT CANNOT BE PHYSICALLY OR REASONABLE CONTINUED ON THAT DAY OR ANY DAY AFTERWARDS, THE GAME WILL BE CONSIDERED AN OFFICIAL GAME IF THE TEAMS HAVE PLAYED 3 ½ INNINGS WITH THE HOME TEAM WINNING OR 4 COMPLETE INNINGS IF THE HOME TEAM WAS LOSING AFTER 3 ½ INNINGS.
IF STOPPAGE IS REQUIRED AFTER THE 4TH INNING, THE WINNER WILL BE DETERMINED BASED ON THE LAST INNING BOTH TEAMS COMPLETED AN EQUAL NUMBER OF TIMES AT BAT.
FOR INSTANCE, IF THE VISITORS ARE BATTING IN THE TOP OF THE 5TH INNING AND THEY SCORE 3 RUNS TO GO UP 5 TO 5, IF THE GAME IS STOPPED, THE HOME TEAM WILL BE DECLARED THE WINNER BECAUSE AT THE BOTTOM OF THE 4TH, THEY WERE WINNING, 4 TO 2.
In POOL PLAY, if the game is called prior to this point, the score shall be the same as it was at the end of the last COMPLETED INNING. In BRACKET PLAY, if the game is called prior to this point, the winner will be the highest seeded team.
THIS IS BASED ON A STOPPED GAME THAT CANNOT BE COMPLETED FOR VARIOUS REASONS TO INCLUDE TIME CONSTRAINTS, NOT A POSTPONED OR DELAYED GAMES THAT CAN BE CONTINUED.
ONLY TOURNAMENT AND/OR SITE DIRECTORS CAN STOP A GAME AND CONSIDER IT AN OFFICIAL GAME.
.
BASEBALLS:
MUST BE AN OFFICIAL BASEBALL! NO SOFT CORES. YOU KNOW WHAT A REAL BASEBALL IS. THE KIND YOU WANT YOUR TEAM HITTING.
.
SEEDINGS/TIEBREAKERS:
GAMES CAN END IN A TIE IN EVERY GAME EXCEPT ELIMINATION GAMES.
IN ELIMINATION GAMES, IF THE GAME IS STILL TIED AFTER REGULATION PLAY THE INTERNATIONAL TIE-BREAKER WILL BE UTILIZED BY PLACING THE LAST BATTED OUT ON 2ND BASE TO START THE INNING WITH NO OUTS.
TIEBREAKERS FOR SEEDING PURPOSES ARE AS FOLLOWS:
A). LEAST RUNS ALLOWED
B). RUN DIFFERENTIAL (7-Run Max)
C). MOST RUNS SCORED (7-Runs Max)
D). COIN TOSS.
IF NO COACHES ARE PRESENT, WE WILL VIDEO THE COIN TOSS AND TEXT TO ALL THE HEAD COACHES INVOLVED.
.

STEEL SPIKES:
ONLY ALLOWED IN AGES 13U AND ABOVE!
ANY SPIKES THAT ARE DEEMED TO HAVE BEEN SHARPENED WILL RESULT IN THAT PLAYER BEING REMOVED FROM THE EVENT.
.
ILLEGAL PLAYER/PITCHER:
ANY PLAYER THAT ACTIVELY PARTICIPATES IN A GAME WHO IS NOT ON THE OFFICIAL ONLINE ROSTER IS CONSIDERED AN ILLEGAL PLAYER.
THESE ACTIONS WILL RESULT IN IMMEDIATE FORFEITURE.
.
FORFEITS:
ALL FORFEITS ARE SCORED 7-0 FOR THE WINNER
.
7U-8U COACH PITCH RULES:
THERE WILL BE MARKS IN THE OUTFIELD 20FT BEHIND THE BASES. NO OUTFIELDER MAY PLAY IN FRONT OF THESE MARKS. ONCE THE BALL IS HIT THE PLAYER MAY PLAY ANYWHERE IN ORDER TO MAKE A PLAY ON THE BALL. AFTER THE PLAY HE MUST GO BACK BEHIND THE 20FT MARK UNTIL THE BALL IS HIT AND PUT IN PLAY AGAIN.
1. A BALL MUST GO 20 FEET IN FRONT OF HOME PLATE TO BE FAIR. A FAIR BALL ARC WILL BE DRAWN ON THE FIELD.
2. INFIELDERS MUST STAY BEHIND THE SAFETY ARC UNTIL THE BALL IS HIT. THIS ARC IS 30FT IN FRONT OF HOME PLATE TOUCHING EACH FOUL LINE.
3. A BASE RUNNER IS OUT FOR LEAVING THE BASE BEFORE THE BALL IS HIT.
4. STEALING IS NOT ALLOWED.
5. 10 PLAYERS WILL PLAY IN THE FIELD WITH 4 OUTFIELDERS. THE 4TH OUTFIELDER MAY NOT ASSUME AN INFIELD POSITION.
6. THE BATTING ORDER SHALL CONSTITUTE ALL PLAYERS ON THE TEAM ROSTER AT THE BEGINNING OF THE GAME.
LATE ARRIVALS MAY BE INSERTED AS THE LAST BATTER.
ALL PLAYERS ON THE ROSTER MUST BAT BEFORE RETURNING TO THE TOP OF THE ORDER.
7. A MAXIMUM OF 7-RUNS PER INNING OR 3 OUTS INCLUDING THE LAST INNING. THERE IS NO OPEN INNING.
8. FREE SUBSTITUTIONS ON DEFENSE, BATTING ORDER MUST STAY THE SAME.
9. NO BUNTING.
10. DEFENSIVE COACHES ARE NOT ALLOWED ON THE FIELD OF PLAY AND MUST COACH FROM THE DUGOUT.
11. UMPIRES WILL CALL TIME AFTER EACH PLAY AND DECLARE THE BALL DEAD. TIME SHOULD BE CALLED AS SOON AS THE LEAD RUNNER IS NOT TRYING TO ADVANCE.
12. CATCHERS ARE REQUIRED TO STAY IN THE CATCHERS BOX AND HOLD THEIR GLOVE UP.
13. THE SAME BATTER CAN ONLY BE INTENTIONALLY WALKED ONCE PER GAME.
14. EACH BATTER IS AWARDED 6 PITCHES, A FOUL TIP ON THE LAST PITCH IS NOT AN OUT AND THE BATTER REMAINS ALIVE. HE IS OUT ON THE LAST PITCH IF HE SWINGS AND MISSES OR DOES NOT MAKE AN ATTEMPT.